Search Inventory Search Products & Site
Unverferth 1120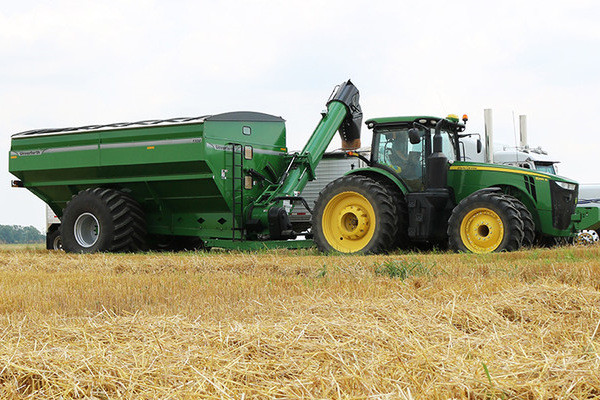 Double tap to zoom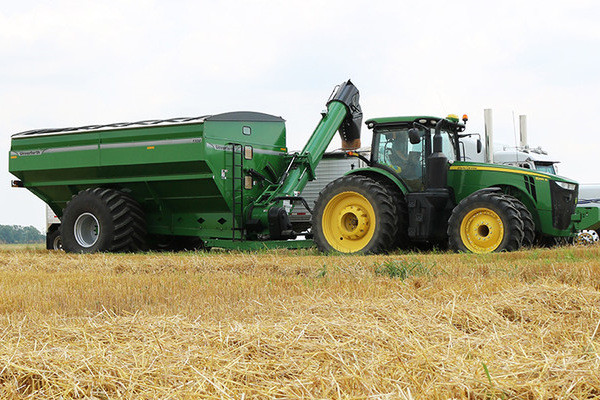 Features
Augers
The 20" diameter horizontal floor auger feeds the 24" vertical auger on model 2020 for unloading speeds up to 1,000 bushels per minute or the 22" vertical auger on models 1620, 1320 and 1120 for unloading speeds up to 850 bushels per minute
Exclusively designed 3/8" thick max-edge flighting with 1/4" thick high-carbon Abrasion Resistant (AR400) wear strips in high-volume areas increases the life of the flighting for long-term, trouble-free use.

AR400 material is a high-carbon alloy steel that is harder and increases the durability of the steel.
Electronic balancing of the upper and lower auger flightings provides smooth operation at all speeds.
Two-point auger engagement between the upper and lower vertical auger sections ensures a smooth transition of grain and reduces shock during startup.
Patented rubber cushion auger connection protects the upper and lower vertical augers from harsh tractor PTO engagements which reduces stress and extends the driveline life.

Three high-output LED spotlights located on the unloading auger downspout feature a compact design and durable construction for convenient nighttime operation.
Pivoting vertical unloading auger adjusts from 16' 6" to 10' 6" in height which allows the operator to lower the auger to the truck when unloading and raise the auger when pulling away

Adjust auger reach up to 8' 11" from the cart for precise grain placement without repositioning the grain cart

The unloading auger fits completely within the cart's width for transport and storage ease
Easy-to-operate auger stand provides in-field position for auger, resulting in quicker raising and lowering
The vertical auger's hinged cleanout door features tool free access which allows for convenient pit dumping and cleanout
Downspout
Standard bi-directional downspout allows you to easily move the downspout in-and-out for precise grain placement
An optional pistol-grip joystick remote provides 4-way downspout operation which allows the operator to move the downspout left/right and in/out for easily topping off trucks

The optional joystick also controls the auger pivot up/down, auger raise/lower and flow door open/clos
Drivetrain
The exclusive drivetrain design on Unverferth dual auger grain carts combines a belt drive for the 20" horizontal auger and a heavy-duty direct-drive 90-degree gearbox for the vertical auger
Belt-drive features dual, four-strand belts and dual spring-loaded tensioners for long life and easy maintenance
Floor auger can be manually disengaged if needed
Quick-couple 1000 RPM P.T.O. shaft with overrunning friction clutch helps protect driveline
Tank Design
Large carrying capacities of 2000, 1600, 1300 and 1100 bushels to meet your operation's needs
The 20-Series double auger grain cart design allows the tank to have a lower profile and low center of gravity for in-field stability and easy combine unloading
The steep floor slopes, graphite-coated interior and recessed floor auger intake provide quick and clean unloading
Standard, 16" hydraulic flow-control gates over the floor auger allow the operator to meter the grain flow
Rear, single-point opening floor auger panels permit easy clean out between crops
Ergonomic side-mounted ladder extends away from the grain cart for easy access to the top of the tank.
Interior tank-mounted LED spotlight allows the operator to easily check the tank's contents at night.
Three front and one rear shatterproof windows make for convenient load checking
The exclusive manufacturing process crimps sides for added strength and a sleek appearance
Exposed seams are silicone sealed for corrosion resistance
Flashing L.E.D. amber and red taillights with SMV sign and transport chains for safe road transport
Durable top coat of high-grade enamel paint is baked on in tractor red or green for a smooth, automotive-like finish
Weatherguard Tarp
Standard Weatherguard rollover tarp protects the tank's contents and features a custom-design for a sleek appearance and easy operation.

Low-profile tarp bows are reinforced to eliminate sagging and the heavy-duty, 18 oz. black canvas can withstand harsh weather conditions.
Semi-trailer locking design provides optimum protection from high winds and moisture.
Frame
Rubber-cushioned tongue suspension provides a smoother ride over the roughest terrain
Tubular steel mainframe, 12-gauge steel shell, reinforced gusset wheel hub design and special alloy, stress-proof spindles contribute to the durability of the grain cart
Heavy-duty 12,000 lb. drop-leg jack for safer storage and standard transport chains for added safety
In-Line Fixed Tandems
Available on 2020 and 1620 double auger models
Oscillating in-line tandems are fixed for an economical design that provides high-flotation for reduced compaction
12-bolt hubs and a heavy-duty frame structure ensure long-term trouble-free use
Model 2020 features 1050/50x32 tires and model 1620 features 900/60x32 tires
High-Flotation Single
Available on 1320 and 1120 double auger models
Choose 76-50.00x32 or 1250/50x32 on models 1320 & 1120 or 35.5x32 or 1050/50x32 tires on model 1120 only
Walking Tandem Duals
Available on 1320 and 1120 double auger models
Innovative design allows the cart to trail easily through the field and features independent operation from front to rear, allowing the cart to "walk" over obstacles
Can be adjusted for 30" or 36" row spacings
The entire wheel assembly swings out for easier tire/wheel maintenance
Equalizer™ Track Systems
42" wide industry-exclusive rubber track belt for the greatest compaction-reducing undercarriage and is molded as 1 piece for the greatest strength and durability!
Patented design features 8° of side-to-side camber and 20° of front-to-back pivot with independent movement of each track to provide uniform ground contact on uneven terrain for optimum flotation
Available on 2020, 1620 and 1320 double auger grain cart models:

42" wide rubber track with 105" of ground contact length provides a footprint greater than 60 square feet!
Four cast, pivoting mid-rollers are on the same plane as the main end-wheels for optimum flotation 

Available on 1320 and 1120 double auger models:

42" wide rubber track with 87" of ground contact length provides a footprint of over 50 square feet!
Two cast, pivoting mid-rollers are on the same plane as the main end-wheels for optimum flotation 

Shallow tread belt design for greater flotation and traction
40" main end-wheels feature 10-bolt hubs for added durability
All end-wheels and mid-rollers feature hubs that are greaseable and triple-lip seals with a steel guard for optimum lubrication
Hydraulic belt tensioning adjustment for easier track alignment, optimum ground contact and even weight distribution
Standard auto-greaser system for automatic application at more frequent intervals for consistent lubrication
Traditional Track System
Exclusive 36" rubber track belt is molded as 1 piece for maximum strength and durability
40" main end-wheels feature 10-bolt hubs for added durability
All end-wheels and mid-rollers feature hubs that are greaseable and triple-lip seals with a steel guard for optimum lubrication
Hydraulic belt tensioning adjustment for easier track alignment, optimum ground contact and even weight distribution
Available on 1620, 1320 and 1120 models:

36" wide rubber track with 105" of ground contact length
Four cast, pivoting mid-rollers are on the same plane as the main end-wheels for optimum flotation 

Available on model 1120:

36" wide rubber track with 90" of ground contact length
Two cast, pivoting mid-rollers are on the same plane as the main end-wheels for optimum flotation
Economical Track Option
Available on model 1120 with a 36" wide rubber track belt that is molded as 1 piece for the greatest strength and durability
32" main end-wheels feature 8-bolt hubs for added durability
Two cast, pivoting mid-rollers are on the same plane as the main end-wheels for optimum flotation and give the track 75" of ground contact length
All end-wheels and mid-rollers feature hubs that are greaseable and triple-lip seals with a steel guard for optimum lubrication
Hydraulic belt tensioning adjustment for easier track alignment, optimum ground contact and even weight distribution
Specifications
Specification
Model 1120
Loaded Tire Ground Pressure - P.S.I. calculated at the 3" penetration level.
For use as a comparative guide in choosing between various tire options.
Capacity (bushels)
1,100
Engine H.P.
225+
Loaded Tongue Weight (lbs)
5200
Empty Tongue Weight (lbs)
3400
Auger Diameters (vertical/horizontal)
22" / 20"
Unload Speed (bu./minute).
850
Flighting Thickness
7/16"
Hub Size / Spindle Diameter
10-bolt / 4 1/2"
Hydraulic Remotes Required
4
Hopper Length
22'
Hopper Width
11' 10"
Auger Side Reach Max - measured to inside edge of spout
9' 1"
Auger Side Reach Min - measured to inside edge of spout
3' 4"
Overall Transport Length
30' 10"
Hitch to Center of Axle

20' 4" Single

19' 3" Front Tandem

Single Wheels and Tires
Measured Undercarriage
1050/50x32 Tire
Empty Weight (lbs)
18960
Hitch Height
1' 8"
Hopper Height Low Side
10' 9"
Hopper Height High Side
11' 9"
Auger Height with Spout Straight Down
Adj. 15' 3" - 10' 3"
Height to Top of Auger in Unload Position
Adj. 20' 6" - 15' 6"
Width Outside of Tires
13' 3"
Center of Tire to Center of Tire
10'
Under Frame Clearance
1' 4"
Walking Tandem Dual Wheels and Tires
Measured Undercarriage
520/85x38 Tires
Empty Weight (lbs)
22780
Hitch Height
1' 8"
Hopper Height Low Side
10' 7"
Hopper Height High Side
11' 6"
Auger Height with Spout Straight Down
Adj. 15' 3" - 10' 3"
Height to Top of Auger in Unload Position
Adj. 20' 6" - 15' 6"
Width Outside of Tires
13' 10"
Center of Tire to Center of Tire Inner Dual
6' 2"
Under Frame Clearance
1' 7"
Center of Tire to Center of Tire Outer Dual
12' 7"
Hitch to Center of Tire Rear Dual
21' 4"
In-Line Fixed Tandem Dual Wheels and Tires
Measured Undercarriage
-
Empty Weight (lbs)
-
Hitch Height
-
Hopper Height Low Side
-
Hopper Height High Side
-
Auger Height with Spout Straight Down
-
Height to Top of Auger in Unload Position
-
Width Outside of Tires
-
Center of Tire to Center of Tire
 
Under Frame Clearance
-
Hitch to Center of Tire Rear Dual
-
Tracks
Measured Undercarriage
36"x131" Tracks
Empty Weight (lbs)
25520
Hitch Height
1' 4"
Hopper Height Low Side
10' 4"
Hopper Height High Side
11' 4"
Auger Height with Spout Straight Down
Adj. 15' - 10'
Height to Top of Auger in Unload Position
Adj. 20' 10" - 16' 1"
Width Outside of Tracks
12' 1"
Center of Track to Center of Track
9' 1"
Under Frame Clearance
11"
Bushel capacities were measured with #2 corn at 15% moisture (56 lb test weight)
Due to continuing improvements in the design and manufacture of Unverferth products, all specifications contained herein are subject to change without notice.
Loaded Tire Ground PSI Chart
Undercarriage
Model 1120
42"x148" Equalizer Tracks
 
42"x131" Equalizer Tracks
11.47
36"x148" Traditional Tracks
11.09
36"x131" Traditional Tracks
13.11
36"x112" Economical Tracks
14.66
1050/50x32 In-Line Fixed Tandems (185A8 LI)
 
900/60x32 In-Line Fixed Tandems (185A8 LI)
 
520/85x38 Walking Tandem Duals (155A8 LI)
20.92
520/85x38 Walking Tandem Duals (173A8 LI)
25.56
520/85x42 Walking Tandem Duals (165A8 LI)
18.68
650/65x42 Walking Tandem Duals (168A8 LI)
18.64

IF 1250/50x32 (201A8 LI)

IF 1250/50x32 (188A8 LI)

14.60
1250/50x32 Singles (188A8 LI)
16.96
1050/50x32 Singles (178A8 LI)
21.25
35.5x32 Singles (193A8 LI)
26.41