Search Inventory Search Products & Site
Residential S240 Sport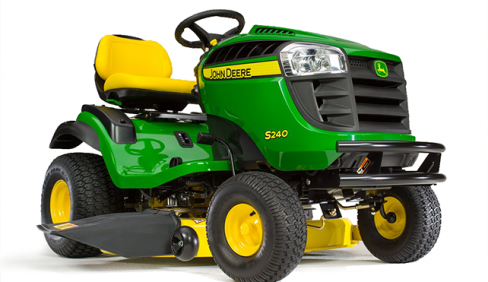 Double tap to zoom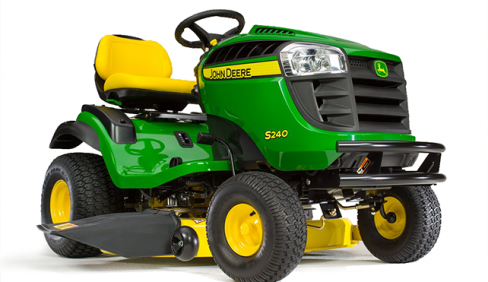 S240 Sport Series S240 Sport
Overview:
The cut of your lawn will be the envy of the neighborhood.

With two-pedal forward/reverse foot controls, a precision, premium quality 42-in. Edge™ Cutting System, and a cast-iron front axle for durability, the S240 Sport is the latest in a long line of John Deere lawn tractors engineered to last and designed to help... + Read More
Get a Quote »
Get A Quote
Fields with asterisks* are required. Please email our helpful staff with any questions or comments using the contact form.
Send to a friend »
Send To A Friend
Fields with asterisks* are required. Your friend will receive an email that contains a reference to this page. Please send this email only to people you know who would be interested in this information.
Features
Powerful, smooth-running engine
Comfortable high-back seat with open lower back
Large, turf-friendly tires for a smooth ride and easy turns
Cast-iron front axle will not bend
Specifications
| | |
| --- | --- |
| Manufacturer | John Deere |
| Model | S240 - 42 Tractor (2017) |
| Engine |   |
| Power |  18.5 hp  |
|   |  13.8 kW  |
| Displacement |  36.8 cu in.  |
|   |  603 cc  |
| Manufacturer/model |  FS600V   |
| Type |  Overhead valve, full-pressure lube, oil filter   |
| Cylinders |  V-twin, cast-iron liners   |
| Governor |  Mechanical   |
| Choke/speed control |  Separate levers, automatic choke return   |
| Cooling method |  Air   |
| Air cleaner |  Dry, replaceable with foam precleaner   |
| Oil drain |  No tools   |
| Fuel system |   |
| Type |  Gasoline   |
| Fuel delivery |  Pulse pump and carburetor   |
| Fuel gauge |  Mechanical, viewable from seat   |
| Fuel tank location |  Rear   |
| Fuel fill opening |  Center, 2 in.  |
|   |  5.1 cm  |
| Fuel tank capacity |  2.4 U.S. gal.  |
|   |  9.1 L  |
| Electrical system |   |
| Battery |  12 V  |
|   |  195 CCA  |
| Charging system |  Flywheel alternator, regulated, 15 amp  |
| Engine starter |  ---   |
| Hourmeter |  Yes, with service reminder   |
| Headlights |  Two standard, incandescent   |
| Taillights or reflector |  Reflectors   |
| Backup lights |  No   |
| Rear work lights |  No   |
| 12-V outlet |  Optional   |
| Transaxle |   |
| Type |  K46 hydrostatic integrated with transaxle   |
| Control |  Two-pedal foot-controlled hydrostatic   |
| Cruise control |  Standard   |
| Oil cooler |  Fins and fan on transaxle   |
| Oil filter |  Yes, internal, not replaceable   |
| Differential lock |  No   |
| Forward speed |  0-5.5 mph  |
|   |  0-8.9 km/h  |
| Reverse speed |  0-3.2 mph  |
|   |  0-5.1 km/h  |
| Brakes |  Internal wet disc   |
| Chassis |   |
| Frame |  Full-length welded steel   |
| Primer/paint |  E-coat/powder   |
| Weight bracket |  Optional rear   |
| Receiver hitch |  No   |
| Front axle |  Cast iron front axle, front wheel ball bearings   |
| Spindle bushings |  No   |
| Front tires |  15x6-6   |
| Rear tires |  20x10-8   |
| Hood material |  JD Loy, UV resistant   |
| Fender deck material |  Stamped steel   |
| Floor mats |  Yes   |
| Storage |  Storage tray with cover   |
| Service interval decal |  Yes   |
| Fender handles/grips |  Handgrips   |
| Cup holder |  Yes   |
| Equipment mounting |  CargO Mount™ system   |
| Steering |   |
| Type |  Sector and pinion with single drag link and tie rod   |
| All-wheel steer |  Not available on this model   |
| Steering wheel |  Deluxe, diameter - 14 in.  |
|   |  35.6 cm  |
| Tilt steering wheel |  No   |
| Turning radius |  18 in.  |
|   |  45.7 cm  |
| Uncut circle radius |  25 in.  |
|   |  63.5 cm  |
| Seat |   |
| Type |  Open-back design with grasp   |
| Seat back height |  15 in.  |
|   |  38.1 cm  |
| Armrests |  No   |
| Fore-aft adjustment |  While seated, 5.5 in.  |
|   |  14 cm  |
| Seat suspension |  Tilt, two rubber isolators   |
| Lift system |   |
| Type |  Lever on fender deck   |
| Hydraulic outlets |  No   |
| Mower cut height |  13 positions, 1-4 in.  |
|   |  2.5-10.2 cm  |
| Cut height increments |  0.25 in.  |
|   |  0.64 cm  |
| Preset cut height |  No   |
| Mower deck |   |
| Type |  Side discharge   |
| Cutting width |  42 in.  |
|   |  107 cm  |
| Construction |  Stamped steel deck shell   |
| Mower deck material |  Steel, 13 gauge  |
|   |  0.090 in.  |
|   |  2.3 mm  |
| Mower wash port |  Yes   |
| Mower drive system |  Electric power take-off (PTO) clutch   |
| Mower wheels |  Two   |
| Mower wheel adjustment |  One bolt   |
| Mower level adjustment |  Easy-level deck   |
| Mower attachability |   |
| Type |  Slide under tractor   |
| Front draft arms |  One spring clip   |
| Rear draft arms |  Two pins and spring clips   |
| Mower wheels rotate |  No   |
| Drive system |  Single belt   |
| Safety |   |
| Meets ANSI standard |  Yes   |
| Meets OPEI standard |  Yes   |
| Backup protection |  Reverse Implement Option (RIO)   |
| Safety video |  Yes   |
| Buyer's notes |   |
| Notes |  JD Loy hood resists fading, won't rust or dent   |
|   |  Durable primer and powder paint finish   |
|   |  Large, 14-in. (36-cm) steering wheel for more comfortable operation   |
| Warranty |  3-year/200-hour bumper-to-bumper* (*Term limited to years or hours used, whichever comes first, and varies by model. See the LIMITED WARRANTY FOR NEW JOHN DEERE TURF AND UTILITY EQUIPMENT at JohnDeere.com or JohnDeere.ca/TUWarranty for details.)   |
| Optional equipment |   |
| Mowers |  Standard, 42 in.  |
|   |  107 cm  |
| Rear bagger |  2-bag, 6.5 bu  |
|   |  229 L  |
| Powered material collection |  ---   |
| Mulching system |  Mulch cover or high-performance plug   |
| Front thatcher |  ---   |
| Front blade |  46 in.  |
|   |  116.8 cm  |
| Mid-mount blade |  ---   |
| Snow blower |  Two-stage, 44 in.  |
|   |  111.8 cm  |
| Rotary broom |  ---   |
| Rotary tiller |  ---   |
| Sleeve hitch |  ---   |
| 3-point hitch |  ---   |
| Rear power take-off (PTO) |  ---   |
| Plow, moldboard |  ---   |
| Box scraper |  ---   |
| Cultivator |  ---   |
| Rear blade |  ---   |
| Disk harrow |  ---   |
| Landscape rake |  ---   |
| Sprayer |  Tow-behind only, 15 U.S. gal.  |
|   |  56.8 L  |
|   |  Tow-behind only, 25 U.S. gal.  |
|   |  94.6 L  |
| Spreader |  Tow-behind only, 125 lb  |
|   |  57.7 kg  |
|   |  Tow-behind only, 175 lb  |
|   |  79.4 kg  |
| Front bumper |  Standard two-bar styled front bumper   |
| Brush guard |  ---   |
| Weather protection |  Snow cab   |
| Sun canopy |  ---   |
| Rear receiver hitch |  ---   |
| Bucket holder |  Yes, single bucket   |
| Grass striping |  Lawn striping kit   |
| Tractor shovel |  ---   |
| Front loader |  ---   |
| Other equipment |  ---   |
| Tow-behind tools |  16   |
| Dimensions |   |
| Height |  44.6 in.  |
|   |  113.2 cm  |
| Overall length |  75.1 in.  |
|   |  191 cm  |
| Wheelbase |  48.9 in.  |
|   |  124.2 cm  |
| Width with mower |  54.9 in.  |
|   |  139 cm  |
| Width with mower (deflector raised for storage) |  44.8 in.  |
|   |  114 cm  |
| Width without mower |  ---   |
| Weight |  458 lb  |
|   |  208 kg  |
| Date collected |  03-Nov-2016   |