Search Inventory Search Products & Site
Agriculture 5100MH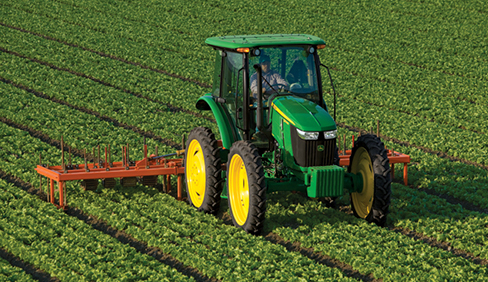 Double tap to zoom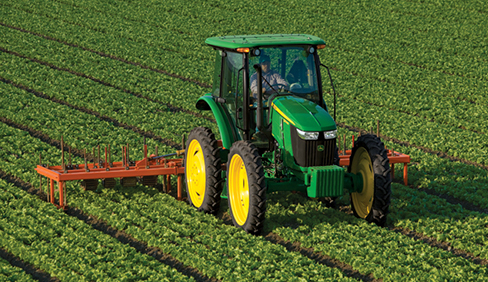 Overview:
From strawberries to broccoli to cauliflower ... get over it with the 5100MH Hi-Crop Tractor. With more than 23 inches (594 mm) of front axle clearance, the 5100MH gives you all the room you need to clear taller crops. But this is more than just a hi-crop tractor; it's a John Deere 5100MH. That means the 5100MH is long... + Read More
Get a Quote »
Get A Quote
Fields with asterisks* are required. Please email our helpful staff with any questions or comments using the contact form.
Send to a friend »
Send To A Friend
Fields with asterisks* are required. Your friend will receive an email that contains a reference to this page. Please send this email only to people you know who would be interested in this information.
Features
Over 23 inches (594 mm) of front axle clearance
Open station and premium cab offer comfort features that reduce fatigue
Cooling system handles harsh conditions, offers easy, tool-free cleaning and maximizes uptime
Low hood design for increased visibility and operational efficiency
Specifications
| | |
| --- | --- |
| Manufacturer | John Deere |
| Model | 5100MH (2016) |
| Official Test |   |
| Nebraska Test number |  Factory Observed   |
| Engine |   |
| Manufacturer |  John Deere PowerTech PWL   |
| Engine family |  FJDXL04.5305   |
| Aspiration |  Turbocharged / Air-to-Air Aftercooled   |
| Cylinders/Displacement, cu. in. (L) |  4/276 (4.5)   |
| Cylinder Liners |  Wet Sleeved   |
| Fuel tank capacity, US Gal. (L) (Open; Cab) |  ---   |
| Standard |  30 (114); 37 (140)   |
| Optional |  38 (144); 46 (174)   |
| Underhood muffler |  Yes   |
| Performance |   |
| Advertised PTO hp (kW) @ Rated rpm |  85 (63) @ 2100 per SAE   |
| Official PTO hp (kW) @ Rated rpm |  ---   |
| @ Standard PTO @ Eng rpm |  ---   |
| Maximum @ Eng rpm |  ---   |
| Advertised Engine hp (kW) @ Rated speed |  100 (74) @ 2200 per ISO 97/68/EC   |
| Max Unballast Drwbr hp (kW) @ Eng rpm |  ---   |
| Maximum Torque (PTO) @ rpm, lb-ft (Nm) |  418 @ 1600   |
| Max Torque Rise (80% rtd spd) @ Eng rpm |  ---   |
| Maximum Torque Rise % (PTO) @ Eng rpm |  30 @ 1600   |
| Fuel Use, U.S. gal./hr & hp hr/gal. at: |   |
| PTO @ Rated Eng rpm |  ---   |
| Standard PTO Speed @ Eng speed |  ---   |
| Maximum PTO Power @ Eng rpm |  ---   |
| Maximum Engine Power @ Eng rpm |  ---   |
| Max Unballasted Drawbar Power @ Eng rpm |  ---   |
| 75% Load, Full Engine rpm (Unballasted) |  ---   |
| 75% Load @ Reduced rpm (Unballasted) |  ---   |
| Transmission |   |
| Std. Transmission; Forward/Reverse |  16F/16R PowrReverser   |
| Opt. Transmission; Forward/Reverse |  ---   |
| Reverser |  Right Hand, Mechanical   |
| On-the-Go Shifting (Yes/No/Partial) |  Partial   |
| Clutch; Wet/Dry |  Wet   |
| Creeper |  16F/16R PowrReverser   |
| Power Take-Off (PTO) |   |
| Standard |  Independent 540/540 Economy   |
| Optional |  540/540E/1000   |
| PTO Speeds @ Engine rpm |  540 @ 2100; 540E @ 1645   |
| PTO Actuation |  Electrohydraulic   |
| Hydraulics |   |
| Type |  Open Center   |
| Pump Rated Output, GPM (L/min.) |  ---   |
| Standard |  24.7 (94)   |
| Optional |  ---   |
| Rated Flow @ One SCV, GPM (L/min.) |  18.4 (70)   |
| Max Output @ SCV Couplers, GPM (L/min.) |  ---   |
| Maximum Operating Pressure, psi (kPa) |  2900 (20000)   |
| Maximum Hydraulic Power, hp (kW) |  31.1 (23.2)   |
| Hitch Draft Control Load Sense Type |  Electrohydraulic   |
| Remote Control Valves Available |  0 (opt. 3)   |
| Hitch Category (SAE Designation) |  2; convertible to 1   |
| Hitch Lift Cap. lb (kg) @24 in. Bhnd Lift Pt. |  ---   |
| OECD |  ---   |
| Standard |  4600 (2100)   |
| Optional |  5600 (2550)   |
| Hitch Lift Cap. lb (kg) @24 in. Bhnd Lift Pt. (SAE) |  ---   |
| Standard |  ---   |
| Optional |  ---   |
| Hitch Lift Cap. lb (kg) @24 in. Bhnd Lift Pt. (ASAE) |  ---   |
| Standard |  ---   |
| Optional |  ---   |
| Sensing type |  Lower Link   |
| Joystick SCV control |  Optional   |
| Final Drive |   |
| Type |  Inboard Planetary   |
| Differential controls |  Mechanical (pedal)   |
| Availability |  ---   |
| Front |  No   |
| Front & Rear |  No   |
| Engage On-the-Go Rear Differential Lock |  Yes   |
| Axle Type |  Flanged   |
| Brakes, Type and Control |  Hydraulic Wet Disc   |
| Operator Station |   |
| Rollover Protective Structure, OOS |  ---   |
| Rigid - Foldable - Telescopic |  Foldable, 2-Post   |
| Platform - Flat/Straddle |  Flat   |
| Gearshift Location - Console/Floor |  Floor   |
| Cab |  ---   |
| Doors |  2   |
| Platform - Flat/Straddle |  Flat   |
| dB(A) Rating |  80   |
| Seat Suspension System |  Mechanical (opt. Air Ride opt. Low Frequency heated Air Ride)   |
| 2WD Dimensions |   |
| Wheelbase, in. (mm) |  ---   |
| Front Tread Range, in. (mm) |  ---   |
| Rear Tread Range, in. (mm) |  ---   |
| Minimum Rear Tread Setting, in. (mm) |  ---   |
| Front Axle Clearance, in. (mm) |  ---   |
| Turning Radius w/Brakes, ft (m) |  ---   |
| Turning Radius w/o Brakes, ft (m) |  ---   |
| Unballasted Operating Weight, lb (kg) |  ---   |
| Approx. Ship Wgt, lb (kg) Open; Cab |  ---   |
| MFWD Dimensions |   |
| Wheelbase, in. (mm) |  90.6 (2301.24)   |
| Front Tread Range, in. (mm) |  52.8 - 75.0 (1340 - 1904)   |
| Front Axle Clearance, in. (mm) |  23.4 (594.36)   |
| Turning Radius w/Brakes, ft (m) |  12.8 (3.9)   |
| Turning Radius w/o Brakes, ft (m) |  14.4 (4.4)   |
| Limited Slip Differential |  Yes   |
| Unballasted Operating Weight, lb (kg) |  ---   |
| Approx. Ship Wgt, lb (kg) Open; Cab |  8000 (3630); 8900 (4040)   |
| 4WD Dimensions |   |
| Wheelbase, in. (mm) |  ---   |
| Wheel Tread, Min. to Max. in. (mm) |  ---   |
| Turning Radius w/o Brakes, ft (m) |  ---   |
| Nebraska Test Unballasted w/Duals, lb (kg) |  ---   |
| Unballasted Weight, lb (kg) |  ---   |
| Standard Tires |   |
| 2WD |  ---   |
| Front |  ---   |
| Rear |  ---   |
| MFWD |  ---   |
| Front |  230/95R40 R1   |
| Rear |  230/95R40 R1   |
| 4WD |  ---   |
| Track widths |  ---   |
| Miscellaneous |   |
| Country of Manufacture |  Augusta, GA   |
| Ballasting Restrictions, lb (kg) |  ---   |
| *Notes |  Updated 2/05/2015   |