Search Inventory Search Products & Site
Agriculture 6195R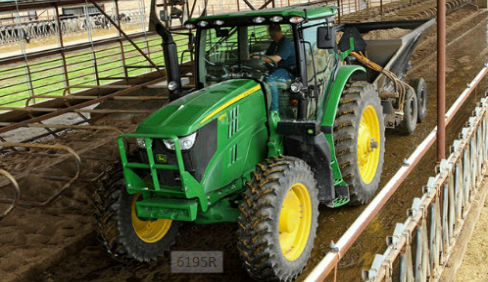 Double tap to zoom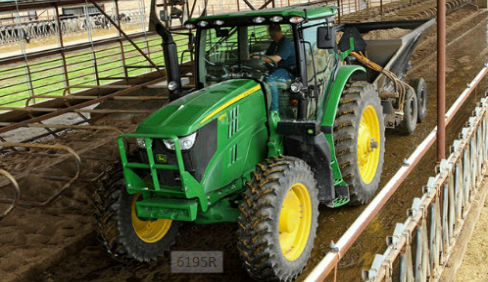 Overview:
Whether it's unbearably hot, miserably cold or somewhere in between, if you're running the 6195R, Mother Nature won't have a chance to slow you down. The ComfortView cab was designed for high-hour users. And now with more engine hp, improved visibility to the drawbar and hitch, available wide-angle mirrors and a variet... + Read More
Get a Quote »
Get A Quote
Fields with asterisks* are required. Please email our helpful staff with any questions or comments using the contact form.
Send to a friend »
Send To A Friend
Fields with asterisks* are required. Your friend will receive an email that contains a reference to this page. Please send this email only to people you know who would be interested in this information.
Features
Reliable John Deere 6.8L PowerTech™ Final Tier 4 engine
Standard 20 Speed AutoQuad PLUS™ transmission or available Direct Drive or Infinitely Variable Transmission
ComfortView™ cab for all day comfort
Specifications
| | |
| --- | --- |
| Manufacturer | John Deere |
| Model | 6195R FT4 |
| Official Test |   |
| Nebraska Test number |  2105   |
| Engine |   |
| Manufacturer |  John Deere PowerTech PSS   |
| Engine family |  ---   |
| Aspiration |  Dual series turbocharger with fixed geometry first-stage, variable geometry second-stage air-to-air aftercooling and cooled exhaust gas recirculation   |
| Cylinders/Displacement, cu. in. (L) |  6 / 6.8 L  |
|   |  6 / 415 cu in.  |
| Cylinder Liners |  Wet sleeve   |
| Fuel tank capacity, US Gal. (L) (Open; Cab) |  ---   |
| Standard |  330 L  |
|   |  87.1 gal.  |
| Optional |  ---   |
| Underhood muffler |  Yes   |
| Performance |   |
| Advertised PTO hp (kW) @ Rated rpm |  118 @ 2100 kW  |
|   |  158 @ 2100 PTO hp  |
| Official PTO hp (kW) @ Rated rpm |  122.71 @ 2100 kW  |
|   |  164.56 rpm  |
| @ Standard PTO @ Eng rpm |  137.59 @ 1959 kW  |
|   |  184.51 rpm  |
| Maximum @ Eng rpm |  141.11 @ 1750 kW  |
|   |  189.23 rpm  |
| Advertised Engine hp (kW) @ Rated speed |  143 kW  |
|   |  195 engine hp  |
| Max Unballast Drwbr hp (kW) @ Eng rpm |  117.01 @ 2100 kW  |
|   |  156.92 rpm  |
| Maximum Torque (PTO) @ rpm, lb-ft (Nm) |  851 @ 1350 Nm  |
|   |  628 lb-ft  |
| Max Torque Rise (80% rtd spd) @ Eng rpm |  43 percent  |
| Maximum Torque Rise % (PTO) @ Eng rpm |  52.60 percent  |
| Fuel Use, U.S. gal./hr & hp hr/gal. at: |   |
| PTO @ Rated Eng rpm |  17   |
| Standard PTO Speed @ Eng speed |  17.79   |
| Maximum PTO Power @ Eng rpm |  18.33   |
| Maximum Engine Power @ Eng rpm |  15 percent  |
|   |  @ 1750 rpm  |
| Max Unballasted Drawbar Power @ Eng rpm |  117.01 @ 2100 kW  |
|   |  156.92 rpm  |
| 75% Load, Full Engine rpm (Unballasted) |  92.17 kW  |
|   |  123.60 rpm  |
| 75% Load @ Reduced rpm (Unballasted) |  91.86 @ 1373 kW  |
|   |  123.18 rpm  |
| Transmission |   |
| Std. Transmission; Forward/Reverse |  20-speed AutoQuad PLUS ECO transmission 40 km/h  |
|   |  20-speed AutoQuad PLUS ECO transmission 25 mph  |
| Opt. Transmission; Forward/Reverse |  16-speed PowrQuad PLUS transmission, 20-speed AutoQuad PLUS ECO transmission (50), John Deere Infinitely Variable Transmission (IVT) (0.050 to 42), or John Deere IVT (0.050 to 50), DirectDrive ECO transmission (40) 24X24 km/h  |
|   |  16-speed PowrQuad PLUS transmission, 20-speed AutoQuad PLUS ECO transmission (31), John Deere Infinitely Variable Transmission (IVT) (0.030 to 26), or John Deere IVT (0.030 to 31), DirectDrive ECO transmission (25) 24X24 mph  |
| Reverser |  Left-hand base   |
| On-the-Go Shifting (Yes/No/Partial) |  Yes   |
| Clutch; Wet/Dry |  Wet   |
| Creeper |  Included with IVT   |
| Power Take-Off (PTO) |   |
| Standard |  1-3/8-in. 540/1000 reversible shaft   |
| Optional |  1-3/8-in. 540/540E/1000 reversible shaft; 1-3/4-in. 540/540E/1000 reversible shaft; 1-3/8-in. 540/1000/1000E reversible shaft; 1-3/4-in. 540E/1000/1000E reversible shaft   |
| PTO Speeds @ Engine rpm |  1072 @ 2100 rpm  |
| PTO Actuation |  Electrohydraulic   |
| Hydraulics |   |
| Type |  Closed-center, pressure/flow compensated   |
| Pump Rated Output, GPM (L/min.) |  ---   |
| Standard |  155 L/min  |
|   |  41 gpm  |
| Optional |  N/A   |
| Rated Flow @ One SCV, GPM (L/min.) |  129.7 L/min  |
|   |  34.3 gpm  |
| Max Output @ SCV Couplers, GPM (L/min.) |  153.7 L/min  |
|   |  40.6 gpm  |
| Maximum Operating Pressure, psi (kPa) |  20,000 kPa  |
|   |  2900 psi  |
| Maximum Hydraulic Power, hp (kW) |  42.1 kW  |
|   |  56.4 hp  |
| Hitch Draft Control Load Sense Type |  Electrohydraulic   |
| Remote Control Valves Available |  3-450 Series Mechanical SCVs standard, 3 to 4 electrohydraulic SCVs; 2 or 4 mechanical SCVs are optional   |
| Hitch Category (SAE Designation) |  Category 3/3N   |
| Hitch Lift Cap. lb (kg) @24 in. Bhnd Lift Pt. |  ---   |
| OECD |  ---   |
| Standard |  TBD - Nebraska Test   |
| Optional |  N/A   |
| Hitch Lift Cap. lb (kg) @24 in. Bhnd Lift Pt. (SAE) |  ---   |
| Standard |  N/A   |
| Optional |  N/A   |
| Hitch Lift Cap. lb (kg) @24 in. Bhnd Lift Pt. (ASAE) |  ---   |
| Standard |  N/A   |
| Optional |  N/A   |
| Sensing type |  Electronic lower link   |
| Joystick SCV control |  Mechanical or electronic   |
| Final Drive |   |
| Type |  Inboard planetary three pinion   |
| Differential controls |  Electrohydraulic   |
| Availability |  ---   |
| Front |  Yes   |
| Front & Rear |  Yes   |
| Engage On-the-Go Rear Differential Lock |  Yes   |
| Axle Type |  Rack and pinion   |
| Brakes, Type and Control |  Hydraulic wet disc   |
| Operator Station |   |
| Rollover Protective Structure, OOS |  N/A   |
| Rigid - Foldable - Telescopic |  N/A   |
| Platform - Flat/Straddle |  N/A   |
| Gearshift Location - Console/Floor |  N/A   |
| Cab |  ---   |
| Doors |  ---   |
| Platform - Flat/Straddle |  ---   |
| dB(A) Rating |  69.3 - At no load in 6th gear, FWD engaged   |
| Seat Suspension System |  ---   |
| 2WD Dimensions |   |
| Wheelbase, in. (mm) |  ---   |
| Front Tread Range, in. (mm) |  ---   |
| Rear Tread Range, in. (mm) |  ---   |
| Minimum Rear Tread Setting, in. (mm) |  ---   |
| Front Axle Clearance, in. (mm) |  ---   |
| Turning Radius w/Brakes, ft (m) |  ---   |
| Turning Radius w/o Brakes, ft (m) |  ---   |
| Unballasted Operating Weight, lb (kg) |  ---   |
| Approx. Ship Wgt, lb (kg) Open; Cab |  ---   |
| MFWD Dimensions |   |
| Wheelbase, in. (mm) |  2800 mm  |
|   |  110.2 in.  |
| Front Tread Range, in. (mm) |  1524 to 2235 mm  |
|   |  60 to 88 in.  |
| Front Axle Clearance, in. (mm) |  607 mm  |
|   |  23.9 in.  |
| Turning Radius w/Brakes, ft (m) |  ---   |
| Turning Radius w/o Brakes, ft (m) |  ---   |
| Limited Slip Differential |  Yes   |
| Unballasted Operating Weight, lb (kg) |  7801 kg  |
|   |  17,200 lb  |
| Approx. Ship Wgt, lb (kg) Open; Cab |  7801 kg  |
|   |  17,200 lb  |
| 4WD Dimensions |   |
| Wheelbase, in. (mm) |  N/A   |
| Wheel Tread, Min. to Max. in. (mm) |  N/A   |
| Turning Radius w/o Brakes, ft (m) |  N/A   |
| Nebraska Test Unballasted w/Duals, lb (kg) |  N/A   |
| Unballasted Weight, lb (kg) |  N/A   |
| Standard Tires |   |
| 2WD |  ---   |
| Front |  ---   |
| Rear |  ---   |
| MFWD |  ---   |
| Front |  420/90R30   |
| Rear |  480/80R46   |
| 4WD |  N/A   |
| Track widths |  N/A   |
| Miscellaneous |   |
| Country of Manufacture |  Waterloo, Iowa, United States   |
| Ballasting Restrictions, lb (kg) |  Refer to Operator's Manual   |
| *Notes |  Updated - 28 March 2015   |