Search Inventory Search Products & Site
Agriculture 9570R Scraper Special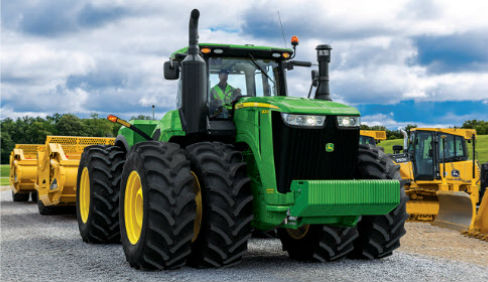 Double tap to zoom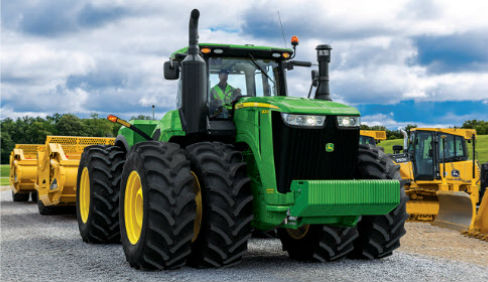 9R/9RT/9RX Series Scraper-Special 9570R Scraper Special
Overview:
Why walk when you can run? The New 9R Series Tractors are built to defy convention. With more engine horsepower (370 - 620 engine hp) and efficient FT4 engine technology, these machines welcome a good challenge. We've also added the new HydraCushion™ Suspension system on select models to help mitigate powerhop and road... + Read More
Get a Quote »
Get A Quote
Fields with asterisks* are required. Please email our helpful staff with any questions or comments using the contact form.
Send to a friend »
Send To A Friend
Fields with asterisks* are required. Your friend will receive an email that contains a reference to this page. Please send this email only to people you know who would be interested in this information.
Features
Cummins QSX15
New and improved e18™ PowerShift Transmission
New HydraCushion™ Suspension option
New CommandView™ III cab
Specifications
| | |
| --- | --- |
| Manufacturer | John Deere |
| Model | 9570R Scraper Special |
| Official Test |   |
| Nebraska Test number |  ---   |
| Engine |   |
| Manufacturer |  Cummins   |
| Engine family |  QSX15   |
| Aspiration |  Single Variable geometry turbocharger air-to-air aftercooling and cooled exhaust gas recirculation   |
| Cylinders/Displacement, cu. in. (L) |  14.9 L  |
|   |  912 cu in.  |
| Cylinder Liners |  Wet-sleeve   |
| Fuel tank capacity, US Gal. (L) (Open; Cab) |  ---   |
| Standard |  1514 L  |
|   |  400 U.S. gal.  |
| Optional |  ---   |
| Underhood muffler |  ---   |
| Performance |   |
| Advertised PTO hp (kW) @ Rated rpm |  ---   |
| Official PTO hp (kW) @ Rated rpm |  ---   |
| @ Standard PTO @ Eng rpm |  ---   |
| Maximum @ Eng rpm |  ---   |
| Advertised Engine hp (kW) @ Rated speed |  419 kW  |
|   |  570 hp  |
| Max Unballast Drwbr hp (kW) @ Eng rpm |  ---   |
| Maximum Torque (PTO) @ rpm, lb-ft (Nm) |  ---   |
| Max Torque Rise (80% rtd spd) @ Eng rpm |  38 percent  |
| Maximum Torque Rise % (PTO) @ Eng rpm |  ---   |
| Fuel Use, U.S. gal./hr & hp hr/gal. at: |   |
| PTO @ Rated Eng rpm |  ---   |
| Standard PTO Speed @ Eng speed |  ---   |
| Maximum PTO Power @ Eng rpm |  ---   |
| Maximum Engine Power @ Eng rpm |  ---   |
| Max Unballasted Drawbar Power @ Eng rpm |  ---   |
| 75% Load, Full Engine rpm (Unballasted) |  ---   |
| 75% Load @ Reduced rpm (Unballasted) |  ---   |
| Transmission |   |
| Std. Transmission; Forward/Reverse |  e18™ 18-speed PowerShift 40 kph (25 mph); 18F, 6R with Efficiency Manager™   |
| Opt. Transmission; Forward/Reverse |  ---   |
| Reverser |  ---   |
| On-the-Go Shifting (Yes/No/Partial) |  ---   |
| Clutch; Wet/Dry |  ---   |
| Creeper |  ---   |
| Power Take-Off (PTO) |   |
| Standard |  ---   |
| Optional |  ---   |
| PTO Speeds @ Engine rpm |  ---   |
| PTO Actuation |  ---   |
| Hydraulics |   |
| Type |  Closed-center, pressure/flow compensated   |
| Pump Rated Output, GPM (L/min.) |  ---   |
| Standard |  220 L/min  |
|   |  58 gpm  |
| Optional |  435 L/min  |
|   |  115 gpm  |
| Rated Flow @ One SCV, GPM (L/min.) |  Standard coupler: 132 L/min  |
|   |  35 gpm  |
|   |  12.7 mm  |
|   |  0.5 in.  |
|   |  Optional coupler: 159 L/min  |
|   |  42 gpm  |
|   |  19.0 mm  |
|   |  0.75 in.  |
| Max Output @ SCV Couplers, GPM (L/min.) |  ---   |
| Maximum Operating Pressure, psi (kPa) |  20,000 kPa  |
|   |  2900 psi  |
| Maximum Hydraulic Power, hp (kW) |  ---   |
| Hitch Draft Control Load Sense Type |  ---   |
| Remote Control Valves Available |  4 Standard, 6 Optional   |
| Hitch Category (SAE Designation) |  ---   |
| Hitch Lift Cap. lb (kg) @24 in. Bhnd Lift Pt. |  ---   |
| OECD |  ---   |
| Standard |  ---   |
| Optional |  ---   |
| Hitch Lift Cap. lb (kg) @24 in. Bhnd Lift Pt. (SAE) |  ---   |
| Standard |  ---   |
| Optional |  ---   |
| Hitch Lift Cap. lb (kg) @24 in. Bhnd Lift Pt. (ASAE) |  ---   |
| Standard |  ---   |
| Optional |  ---   |
| Sensing type |  ---   |
| Joystick SCV control |  ---   |
| Final Drive |   |
| Type |  Inboard planetary   |
| Differential controls |  Full-locking electrohydraulic   |
| Availability |  ---   |
| Front |  ---   |
| Front & Rear |  ---   |
| Engage On-the-Go Rear Differential Lock |  Yes   |
| Axle Type |  ---   |
| Brakes, Type and Control |  Hydraulic power, wet disk, self adjusting on front and rear axle   |
| Operator Station |   |
| Rollover Protective Structure, OOS |  ---   |
| Rigid - Foldable - Telescopic |  ---   |
| Platform - Flat/Straddle |  ---   |
| Gearshift Location - Console/Floor |  ---   |
| Cab |  ---   |
| Doors |  1 left-hand   |
| Platform - Flat/Straddle |  ---   |
| dB(A) Rating |  ---   |
| Seat Suspension System |  Standard: Air   |
|   |  Optional: Active Seat™   |
| 2WD Dimensions |   |
| Wheelbase, in. (mm) |  ---   |
| Front Tread Range, in. (mm) |  ---   |
| Rear Tread Range, in. (mm) |  ---   |
| Minimum Rear Tread Setting, in. (mm) |  ---   |
| Front Axle Clearance, in. (mm) |  ---   |
| Turning Radius w/Brakes, ft (m) |  ---   |
| Turning Radius w/o Brakes, ft (m) |  ---   |
| Unballasted Operating Weight, lb (kg) |  ---   |
| Approx. Ship Wgt, lb (kg) Open; Cab |  ---   |
| MFWD Dimensions |   |
| Wheelbase, in. (mm) |  ---   |
| Front Tread Range, in. (mm) |  ---   |
| Front Axle Clearance, in. (mm) |  ---   |
| Turning Radius w/Brakes, ft (m) |  ---   |
| Turning Radius w/o Brakes, ft (m) |  ---   |
| Limited Slip Differential |  ---   |
| Unballasted Operating Weight, lb (kg) |  ---   |
| Approx. Ship Wgt, lb (kg) Open; Cab |  ---   |
| 4WD Dimensions |   |
| Wheelbase, in. (mm) |  3912 mm  |
|   |  154 in.  |
| Wheel Tread, Min. to Max. in. (mm) |  ---   |
| Turning Radius w/o Brakes, ft (m) |  6.04 m  |
|   |  19.8 ft  |
| Nebraska Test Unballasted w/Duals, lb (kg) |  ---   |
| Unballasted Weight, lb (kg) |  ---   |
| Standard Tires |   |
| 2WD |  ---   |
| Front |  ---   |
| Rear |  ---   |
| MFWD |  ---   |
| Front |  ---   |
| Rear |  ---   |
| 4WD |  710/70R42 in. 173A8 R1W radial in dual configuration   |
| Track widths |  ---   |
| Miscellaneous |   |
| Country of Manufacture |  Waterloo, Iowa, USA   |
| Ballasting Restrictions, lb (kg) |  Lesser of 24,494 kg  |
|   |  54,000 lb  |
|   |  or Tire Capacity   |
| *Notes |  ---   |