Krone EasyCut 280 CRi-Q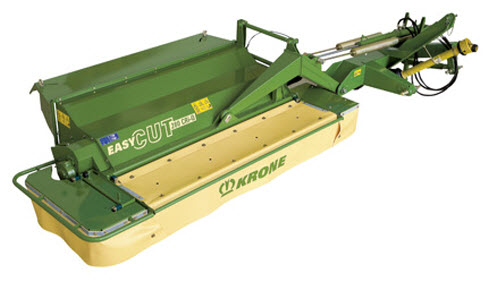 Double tap to zoom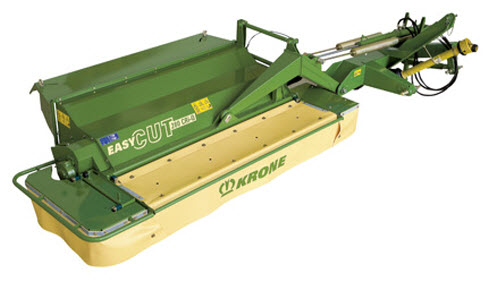 Features
Cutterbar
EasyCut – uniquely KRONE
The cutterbar is permanently lubricated, fully welded and absolutely leak-proof
Wedge-shaped profile Clean cutting
Extra wide and hardened flotation skids
No inner shoe Blockage-free mowing
Massive spur gears Efficient driveline

Safecut
SafeCut – the new disc shear-off system brings unique protection and operational reliability to EasyCut mowers with and without conditioner. The situation is familiar to every farmer – a disc collides with a foreign object, is damaged and requires repair. Offering a maximum of protection, the KRONE SafeCut does not transfer the full shockload to the spur gears. Instead, the roll pin in the sprocket driveshaft breaks when there is a momentary overload. The pinion shaft continues spinning, jacking up the disc in question and moving it out of the risk zone and the orbit of the neighbouring discs. As a result, SafeCut prevents damage to the spur gears and the neighbouring discs.
The moment of impact: The roll pin shears off. This cuts the driveline and stops the disc, which jacks 15 mm (0.6") up a thread. This eliminates any risk of colliding and damaging the neighboring disc.
Krone DuoGrip
The intelligent linkage system – a unique KRONE design
Double mounting: center of gravity suspension, parallelogram linkage guidance
Uniform ground pressure across the entire work width
Large pivot range Perfect ground hugging
Excellent guidance Clean cuts Less side thrust
A perfect and clean cut is at the heart of high-quality forage. As a result, it is not only the design of the cutterbar but also its suspension system that is important here. KRONE DuoGrip not only suspends the mower in its center of gravity but also provides the unit with lateral guidance. The system maintains the ground pressure across the full work width and provides highest stability, lowest weight and optimum side control.
Delicate and broad-leaved crops as leguminosae are best conditioned by the interlocking KRONE CRi roller conditioner, which features two chevron profiled rotors. This conditioner is typically operated in Lucerne, where it ensures gentle treatment of the delicate leaves whilst crimping the stems to ensure faster and more uniform wilting.
250 mm (9.8") diameter: The massive CRi rollers ensure smooth and unobstructed crop flow whilst requiring only a low power input.
Firm grip on crops: The large-diameter chevron profiled conditioner rollers interlock to crimp, rub and crush the crop at great intensity.
Leguminosae and herbs require a different type of conditioning than crops that are predominantly grass. Providing gentle treatment to leafy crops, the CRi roller conditioner leads to less fragmentation than a tined rotor, leaving the delicate leaves intact that are so rich in valuable protein to safeguard the value of farm-grown feedstuff. Spreading the crops wide, the system also makes for faster wilting. This optional CRi conditioner version complements the KRONE mower range to meet all farming needs.
Specifications
Model
EasyCut 280 CRi-Q
Work width                                  approx. mm
2,710 (8'11")
Transport width                           approx. mm
2,010 (6'7")
Transport height                          approx. mm
3,270 (6'5")
Transport position
110° upward
No. of discs
4
No. of top hats
2
Quick-change blades
Standard
SafeCut
---
Conditioner speed
760 rpm
Rotor diameter                                          mm
---
Roller diameter                                         mm
250 (9.8")
Windrow width                           approx. mm
900 - 2,060 (2'11"- 6'9")
Spreading width                         approx. mm
---
Area output                approx. ha/h (acre/hr)
3.0 - 3.5 (7.0 - 8.5)
Weight                                   approx. kg(lbs)
1,060 (2,336)
Power requirement                             kW/hp
58/80
Hydraulic couplers
1 sa / 1 da
Link arm pins
Cat II & III
PTO speed                             Standard rpm
                                                Optional rpm
540
1,000