Krone EasyCut 9140 CV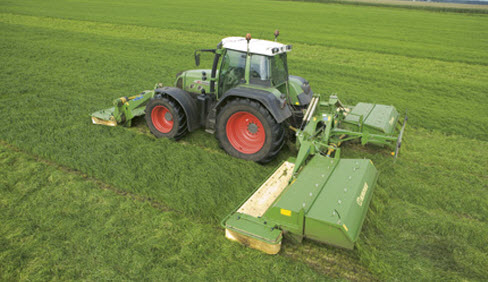 Double tap to zoom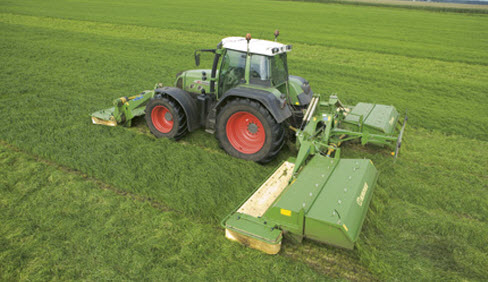 Features
Cutterbar
EasyCut – uniquely KRONE
The cutterbar is permanently lubricated, fully welded and absolutely leak-proof
Wedge-shaped profile Clean cutting
Extra wide and hardened flotation skids
No inner shoe Blockage-free mowing
Massive spur gears Efficient driveline

SafeCut
SafeCut – the new disc shear-off system brings unique protection and operational reliability to EasyCut mowers with and without conditioner. The situation is familiar to every farmer – a disc collides with a foreign object, is damaged and requires repair. Offering a maximum of protection, the KRONE SafeCut does not transfer the full shockload to the spur gears. Instead, the roll pin in the sprocket driveshaft breaks when there is a momentary overload. The pinion shaft continues spinning, jacking up the disc in question and moving it out of the risk zone and the orbit of the neighbouring discs. As a result, SafeCut prevents damage to the spur gears and the neighbouring discs.
The moment of impact: The roll pin shears off. This cuts the driveline and stops the disc, which jacks 15 mm (0.6") up a thread. This eliminates any risk of colliding and damaging the neighboring disc.
Krone DuoGrip
The intelligent linkage system – a unique KRONE design
Double mounting: center of gravity suspension, parallelogram linkage guidance
Uniform ground pressure across the entire work width
Large pivot range Perfect ground hugging
Excellent guidance Clean cuts Less side thrust

Less side thrust and less ground pressure – that's the immediate effect of DuoGrip with center of gravity suspension. These are the findings of field tests. In March 2006, the German agricultural magazine DLZ published a test that compared two suspension systems – lateral suspension (KRONE AM 283 CV) and center-of-gravity suspension (KRONE EasyCut 280 CV). The findings were that the KRONE central suspension or rather center-of-gravity suspension is clearly superior to lateral suspension. A measurably reduced side thrust also suggests reduced ground pressure in the field.
Break-back system
Impact damage protection is the standard - Safety is another important area of excellence. For example, EasyCut 9140 pivots through a 1.40 m (4'7") arc as the entire mower rather than just the cutterbar breaks back upon impact. Once the obstacle is passed, the unit returns automatically into its working position.
Adjust to conditions: These mowers feature a coil spring that sets the tripping force of the impact damage protection system so this triggers within seconds upon impact.
KRONE mower combinations are scientifically designed and fine-tuned to operator needs and comfort. For example, they provide the flexibility to cut awkward areas with one, two or all three mowers lowered into work. Like all CV conditioner mowers, the EasyCut 9140 CV combination features a 600 / 900 rpm mechanical gearbox that varies the conditioner speed. Optional deflector plates are available to allow wide spreading and faster wilting. KRONE mower combinations are specialist machines that are committed to quality and delivery.
Top-quality forage: The full-width and high-performance conditioner features pivoting V-type steel tines and steplessly adjustable baffle plates. Steel tines are extremely hard-wearing and lasting.
Specifications
Model
EasyCut 9140 CV
Total work width                                   approx. mm
8,700 (28'6")
Work width / rear-mounted mower                   mm
3,140 (10'3")
Total transport width                            approx. mm
3,000 (9'10")
Storage height                                     approx. mm
3,800 (12'5")
No. of discs*
10
No. of top hats*
4
Quick-change blades
Standard
SafeCut
Standard
Conditioner
Pivoting V-steel tines
Rotor diameter                                            ca. mm
642 (2')
Conditioner speed                                           rpm
600 and 900
Wide spreading deflector boards
Option
Cross conveyors
–
PTO speed                                                      rpm
1,000
Tractor couplers incl. separate
mower lift-out

2 sa
dead weight*                                              kg (lbs)
2,540 (5,599)
Power requirement                                      kW/hp
118/160
Area output min. ca.                         ha/h (acre/hr)
9 -12 (22 - 29)
* w/o front-mounted mower