Search Inventory Search Products & Site
Agriculture 7200R (Older)
/ NOT AVAILABLE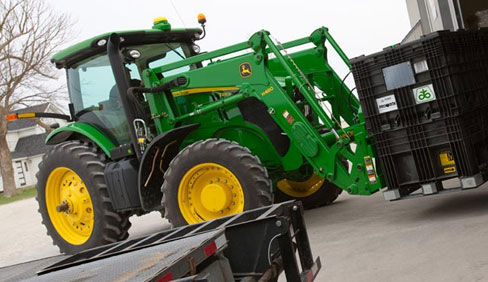 Double tap to zoom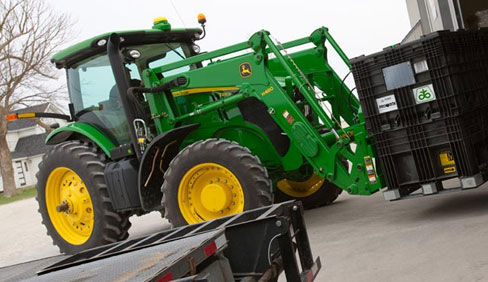 Not a current model
Get a Quote »
Get A Quote
Fields with asterisks* are required. Please email our helpful staff with any questions or comments using the contact form.
Send to a friend »
Send To A Friend
Fields with asterisks* are required. Your friend will receive an email that contains a reference to this page. Please send this email only to people you know who would be interested in this information.
Features
The John Deere 7R Series combines the versatility of a utility tractor with the power of a row-crop tractor. A new chassis that lets you ballast the tractor for hayfields or cornfields, while a longer wheelbase and shorter length gives you a power-dense tractor for improved maneuverability and stability. Two new transmission options help you save fuel. The spacious CommandView™ II Cab offers the best in technology and comfort. Plus, the optional cab suspension system helps provide a super-smooth ride.
Specifications
| | |
| --- | --- |
| Manufacturer | John Deere |
| Model | MY11 7200R; 200 engine (164 PTO) hp |
| Specifications |   |
| Nebraska Test number | Nebraska OECD 2021, Summary #820 |
| Manufacturer | John Deere |
| Aspiration | Dual Series Turbocharger w/fixed geometry first stage-variable geometry second stage - air-to-air aftercooling and cooled exhaust gas recirculation |
| Cylinders/ Displacement, cu. in. (L) | 6/415 (6.8) |
| Cylinder Liners | Wet |
| Fuel tank capacity, US Gal. (L) (Open; Cab) | --- |
| Standard | Quad Transmission with group 47/48 tires: 133 (504) |
| Optional | N/A |
| Underhood muffler | N/A |
| Engine family |   |
| Advertised PTO hp (kW) @ Rated rpm | 164 (123) @ 2100 per SAE |
| Official PTO hp (kW) @ Rated rpm | 169.95 (126.73) @ 2099 RPM |
| @ Standard PTO @ Eng rpm | 190.62 (142.14) @ 1967 RPM |
| Maximum @ Eng rpm | 197.02 (146.92) @ 1749 RPM |
| Advertised Engine hp (kW) @ Rated speed | 200 (147) @ 2100 per 97/68EC PS |
| Max Unballast Drwbr hp (kW) @ Eng rpm | 154.77 (115.41) @ 2100 RPM |
| Maximum Torque (PTO) @ rpm, lb-ft (Nm) | 635 (861) @ 1599 RPM |
| Max Torque Rise (80% rtd spd) @ Eng rpm | --- |
| Maximum Torque Rise % (PTO) @ Eng rpm | 49.3% @ 1599 RPM |
| PTO @ Rated Eng rpm | 10.27 (16.54) @ 2099 RPM |
| Standard PTO Speed @ Eng speed | 11.02 (17.30) @ 1967 RPM |
| Maximum PTO Power @ Eng rpm | 11.06 (17.81) @ 1749 RPM |
| Maximum Engine Power @ Eng rpm | 11.16 (16.17) in 11th (C3) Gear @ 1750 RPM |
| Max Unballasted Drawbar Power @ Eng rpm | 10.21 (15.16) in 7th (B3) Gear @ 2100 RPM |
| 75% Load, Full Engine rpm (Unballasted) | 8.69 (13.70) in 7th (B3) Gear @ 2157 RPM |
| 75% Load @ Reduced rpm (Unballasted) | 7.61 (15.62) in 10th (C2) Gear @ 1631 RPM |
| Std. Transmission; Forward/Reverse | AutoQuad PLUS 20/20, |
| Opt. Transmission; Forward/Reverse | PowerQuad PLUS 16/16; CommandQuad Eco 20/20; IVT |
| Reverser | Optional left hand or right hand with IVT |
| On -the -Go Shifting (Yes/No/Partial) | Yes |
| Clutch; Wet/Dry | Wet |
| Creeper | Yes, IVT |
| Standard | 1-3/4-in. 20 spline 1000 |
| Optional | 1-3/4-in., 20-spline, 1,000-rpm with 1-3/8 in. 540*/1000 rpm gearcase |
| PTO Speeds @ Engine rpm | (540/1000 PTO rpm @ 1950 engine rpm)(540E/1000E PTO rpm @ 1750 engine rpm) |
| PTO Actuation | Electrohydraulic |
| Type | Closed center; pressure and flow compensated |
| Pump Rated Output, GPM (L/min.) | --- |
| Standard | 32 (121) |
| Optional | 43 (162); 59 (222) |
| Rated Flow @ One SCV, GPM (L/min.) | 35 (132) |
| Max Output @ SCV Couplers, GPM (L/min.) | 35.3 (134.8) @ 1 SCV |
| Maximum Operating Pressure, psi (kPa) | 2958 (20,400) |
| Maximum Hydraulic Power, hp (kW) | 48.7 (36.3) |
| Hitch Draft Control Load Sense Type | Electrohydraulic |
| Remote Control Valves Available | 3 standard (4, 5, or 6 optional) |
| Hitch Category (SAE Designation) | 3/3N |
| Hitch Lift Cap. lb (kg) @24 in. Bhnd Lift Pt. | --- |
| OECD | 12,408 (5628.2) |
| Standard | 12,000 (5443) |
| Optional | 15,200 (6895) |
| Hitch Lift Cap. lb (kg) @24 in. Bhnd Lift Pt. (SAE) | --- |
| Standard | N/A |
| Optional | N/A |
| Hitch Lift Cap. lb (kg) @24 in. Bhnd Lift Pt. (ASAE) | --- |
| Standard | N/A |
| Optional | N/A |
| Sensing type | Electrohydraulic |
| Joystick SCV control | Optional |
| Type | Inboard planetary |
| Differential controls | Electrohydraulic |
| Availability | Yes |
| Front | Yes |
| Front & Rear | Yes |
| Engage On -the -Go Rear Differential Lock | Yes |
| Axle Type | Bar with rack and pinion |
| Brakes, Type and Control | Hydraulic wet disk |
| Rollover Protective Structure, OOS | --- |
| Rigid - Foldable - Telescopic | Rigid (cab) |
| Platform - Flat/Straddle | Flat |
| Gearshift Location - Console/Floor | Right-hand console/CommandARM |
| Cab | --- |
| Doors | 1 on left side |
| Platform - Flat/Straddle | Flat |
| dB(A) Rating | 68.1 |
| Seat Suspension System | Air standard (ActiveSeat optional or cab suspension optional) |
| Wheelbase, in. (mm) | N/A |
| Front Tread Range, in. (mm) | N/A |
| Rear Tread Range, in. (mm) | N/A |
| Minimum Rear Tread Setting, in. (mm) | N/A |
| Front Axle Clearance, in. (mm) | N/A |
| Turning Radius w/Brakes, ft (m) | N/A |
| Turning Radius w/o Brakes, ft (m) | N/A |
| Unballasted Operating Weight, lb (kg) | N/A |
| Approx. Ship Wgt, lb (kg) Open; Cab | N/A |
| Wheelbase, in. (mm) | 115.2 (2925) MFWD; 119.4 (3032) 2WD |
| Front Tread Range, in. (mm) | 60-88 (1524-2235) depending on tire size and axle |
| Front Axle Clearance, in. (mm) | --- |
| Turning Radius w/Brakes, ft (m) | Varies by configuration. Refer to operator's manual |
| Turning Radius w/o Brakes, ft (m) | Varies by configuration. Refer to operator's manual |
| Limited Slip Differential | Available on certain axles |
| Unballasted Operating Weight, lb (kg) | N/A |
| Approx. Ship Wgt, lb (kg) Open; Cab | 18104 (8212) 2WD; 23080 (10469) MFWD, CQT 2-450 lbs inners wheel weights,480/80R46 duals, 380/80R38 fronts |
| Wheelbase, in. (mm) | N/A |
| Wheel Tread, Min. to Max. in. (mm) | N/A |
| Turning Radius w/o Brakes, ft (m) | N/A |
| Nebraska Test Unballasted w/Duals, lb (kg) | N/A |
| Unballasted Weight, lb (kg) | N/A |
| 2WD | --- |
| Front | N/A |
| Rear | N/A |
| MFWD | --- |
| Front | 420/90R30 |
| Rear | 480/80R46 |
| 4WD | N/A |
| Track widths | N/A |
| Country of Manufacture | Waterloo, IA USA |
| Ballasting Restrictions, lb (kg) | Refer to operator's manual |
| *Notes | Updated: 10/25/2012 |