Search Inventory Search Products & Site
Agriculture 3720 (Older)
/ NOT AVAILABLE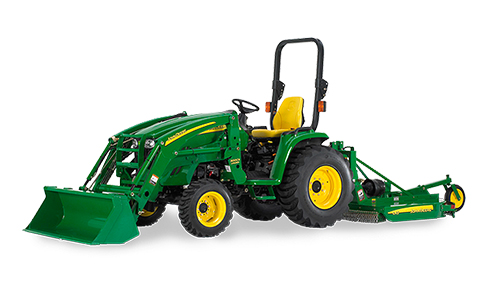 Double tap to zoom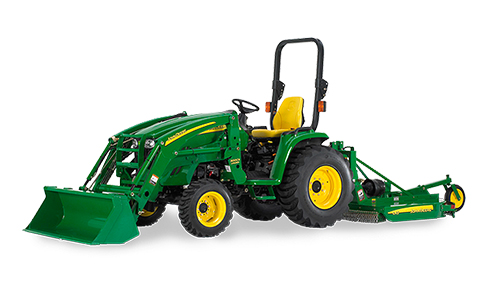 Not a current model
Get a Quote »
Get A Quote
Fields with asterisks* are required. Please email our helpful staff with any questions or comments using the contact form.
Send to a friend »
Send To A Friend
Fields with asterisks* are required. Your friend will receive an email that contains a reference to this page. Please send this email only to people you know who would be interested in this information.
Features
It's a difference you can tell from the moment you sit down—this is no ordinary compact utility tractor. With the John Deere 3000 Twenty Series, you'll enjoy a wide range of standard features and options that add convenience, comfort, and efficiency to every job. A rugged PowrReverser™ gear transmission is standard on the 3320 and 3520 Models, or you can opt up to the eHydro™ hydrostatic transmission. The e-Hydro is standard on the 3720 Model. The 3-range eHydro transmission features Twin-Touch™ pedal control which lets you change direction with just a touch of a pedal -- and without clutching, making it ideal for loader work, or when mowing. You'll also appreciate the standard Cruise Control™ -- a true automotive-type cruise control. Just get up to your desired working speed, set the Cruise Control located on the operator console – and you'll maintain that speed no matter how uneven the terrain. Throw in additional features like the standard 4WD, Quik-Park Loader, Load-Match™ electronic power management system, and optional deluxe cab and you can see why the 3000 Twenty Series is without equal in this horsepower class.
Specifications
| | |
| --- | --- |
| Manufacturer | John Deere |
| Model | 3720 |
| Engine |   |
| Family | --- |
| Manufacturer | Yanmar 3TNV84HT |
| Engine power (gross), hp (kW) | --- |
|   | 97/68/EC rated power |
| Power take-off (PTO) power - gear transmission, hp (kW) | --- |
| PTO power - hydrostatic transmission, hp (kW) | --- |
| Rated engine speed | --- |
| Type | --- |
| Operating range | --- |
| Aspiration | Turbo |
| Cylinders/displacement, cu in. (L) | 3 / 91.5 cu in. |
|   | 1.5 L |
| Cylinder liners | Cast-in-block |
| Bore and stroke | 33 x 3.54 in. |
|   | 84 x 90 mm |
| Compression ratio | 18:1 |
| Lubrication | Pressurized |
| Cooling system | Water pump |
| Air cleaner | Dry type with safety element and air restriction indicator |
| Engine shutoff | Key switch |
| Engine torque at rated speed, lb-ft (N/m) | 84.3 lb-ft |
|   | 114.3 Nm |
| Fuel tank capacity (open-station; cab), U.S. gal. (L) | Open-13.5; Cab-11.8 U.S. gal. |
|   | Open-51.1; Cab-44.7 L |
| Electrical |   |
| Type | 12 volt |
| Battery size (CCA) | 500 |
| Alternator (12-V), amp | Open-40; Cab-75 amp |
| Starter size, hp (kW) | 1.8 hp |
|   | 1.4 kW |
| Fuel system |   |
| Type | Direct injection |
| Injection pump type | In-line with electric shutoff |
| Fuel consumption | 2.8 U.S. gal./hr |
|   | 10.6 L/hr |
| *Fuel consumption rate should be used for comparison purposes only | --- |
| Transmission |   |
| Standard transmission; forward/reverse | eHydro |
| Optional transmission; forward/reverse | --- |
| Left-hand reverser | --- |
| On-the-go shifting | --- |
| Direction reverser; forward/reverse | No; Twin Touch Pedals |
| Forward speed | --- |
| Reverse speed | --- |
| Brakes | Wet disk |
| Steering | Power steering |
| Clutch, wet/dry | N/A |
| Clutch disk diameter wet clutch, in. (mm) | N/A |
| Drawbar tongue weight capacity, lb (kg) | 882 lb |
|   | 400 kg |
| Axle capacity | --- |
| Front, lb (kg) | 1587-3197 lb |
|   | 720-1450 kg |
| Rear, lb (kg) | --- |
| Creeper | Optional SpeedMatch |
| Cruise control | Optional |
| Differential lock | Yes |
| Hydraulics |   |
| Type | Open Center |
| Pump rated output, gpm (L/min) | 13.9 gpm |
|   | 52.5 L/min |
| Steering | 5.3 gpm |
|   | 20 L/min |
| Implement | 8.6 gpm |
|   | 32.5 L/min |
| Pump type | Dual gear |
| Maximum operating pressure (psi) | 2500 psi |
| Draft control type | Position control |
| Remote control valves available | 5 |
| 3-point hitch |   |
| Type | Category 1 |
| Lift capacity, 24-in. behind link arms, lb (kg) | 2200 lb |
|   | 999 kg |
| Lift capacity at lift link ends, lb (kg) | 2530 lb |
|   | 1149 kg |
| Power take-off (PTO) |   |
| Standard | Rear @ 540 |
| Optional | Mid @ 2100 |
| Control | Independent |
| Clutch | Multi-disk, wet |
| Brake (for mid and rear PTO) | Multi-disk, wet |
| Fluid capacities |   |
| Fuel tank, gal. (L) | Open-13.5; Cab-11.8 gal. |
|   | Open-51.1; Cab-44.7 L |
| Cooling system (includes coolant bottle), qt (L) | Open-5.3; Cab-7.6 qt |
|   | Open-1.4; Cab-7.0 L |
| Crankcase with filter, qt (L) | 6 qt |
|   | 5.7 L |
| Transmission and hydraulic system gear, gal. (L) | N/A |
| Transmission and hydraulic system hydrostatic, gal. (L) | 6.8 gal. |
|   | 25.7 L |
| Front axle gearcase (MFWD axle), gal. (L) | 4.7 gal. |
|   | 4.5 L |
| Final drive |   |
| Type | Spur Gear |
| Engage on-the-go rear differential lock | Yes |
| Operator station |   |
| Rollover protective structure | OSHA, SAE, ASAE |
| Type | Foldable |
| Platform - flat/straddle | Flat |
| Gear shift location - console/floor | Left Side |
| Cab |   |
| Compliance | Complies with OSHA, SAE, and CSA standards for roll-over protection |
| Visibility | 360 Degrees |
| Air conditioning, temperature differential | Yes, up to 30 degrees |
| Doors | 2 |
| Platform - flat/straddle | Flat |
| Noise rating | 80 |
| Seat suspension system | Scissor-link |
| Two-wheel drive (2WD) dimensions |   |
| Wheelbase, in. (mm) | --- |
| Front tread range, in. (mm) | --- |
| Rear tread range, in. (mm) | --- |
| Minimum rear tread setting, in. (mm) | --- |
| Front axle clearance, in. (mm) | --- |
| Turning radius with brakes, ft (m) | --- |
| Turning radius without brakes, ft (m) | --- |
| Unballasted operating weight, lb (kg) | --- |
| Approximate shipping weight (open-station; cab), lb (kg) | --- |
| Mechanical front-wheel drive (MFWD) dimensions |   |
| Wheelbase, in. (mm) | 68 in. |
|   | 1727 mm |
| Front tread range, in. (mm) | --- |
| Front axle clearance, in. (mm) | --- |
| Turning radius with brakes, ft (m) | 8.8 ft |
|   | 2.68 m |
| Turning radius without brakes, ft (m) | 9.2 ft |
|   | 2.8 m |
| Limited slip differential | --- |
| Unballasted operating weight, lb (kg) | --- |
| Approximate shipping weight (open-station; cab), lb (kg) | Open-2900; Cab-3570 lb |
|   | Open-1316; Cab-1619 kg |
| Standard tires |   |
| 2WD | --- |
| Front | --- |
| Rear | --- |
| MFWD | --- |
| Front | 7-14 / 6PR R1 |
| Rear | 11.2-24 / 6PR /R1 |
| Miscellaneous |   |
| Underhood muffler | Yes |
| Joystick selective control valve (SCV) control | Yes |
| Inboard planetary | --- |
| Axle type | --- |
| Brakes - Type and control | Wet Disk |