Search Inventory Search Products & Site
Agriculture DB90 54Row20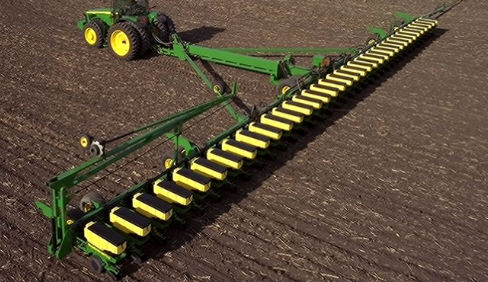 Double tap to zoom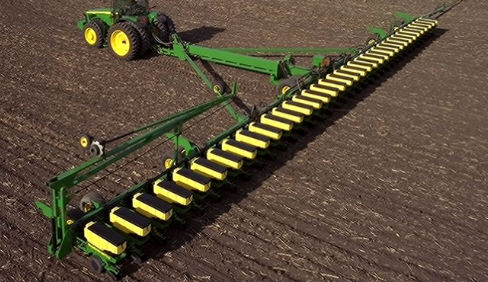 DB Planter Series DB90 54Row20
Overview:
Productivity is written all over the large DB90 54Row20 Planter. With 54 rows on 20-in. spacing, you can cover a lot of ground every day. You'll find several productivity-enhancing features as base equipment, including vacuum seed metering, tri-fold markers, Central Commodity System (CCS™) bulk fill system with MaxEmer... + Read More
Get a Quote »
Get A Quote
Fields with asterisks* are required. Please email our helpful staff with any questions or comments using the contact form.
Send to a friend »
Send To A Friend
Fields with asterisks* are required. Your friend will receive an email that contains a reference to this page. Please send this email only to people you know who would be interested in this information.
Features
54-row planting width on 90-ft. toolbar
Row spacing options: 20, 22, 30 in.
Equipped with MaxEmerge™ 5 twin row-units
3- and 5-section frames 
Specifications
| | |
| --- | --- |
| Manufacturer | John Deere |
| Model | DB90 |
| Rows and Row Spacing |   |
| Number of rows |   54   |
| Row spacing |  20 in.  |
| Frame |   |
| Fold configuration |  Front fold   |
| Frame tube size |  17.8 x 17.8 cm  |
|   |  7 x 7 in.  |
| Fold-and-go from tractor cab |  Base   |
| Flexibility |  5-section flex-frame; wing 15 degrees up and down   |
| Hitch |   |
| Base |  Drawbar   |
| Optional |  NA   |
| Rear hitch |  Optional   |
| Lift System |   |
| Type |  Electrohydraulic series rephasing cylinder w/center sec. drop axle   |
| Number of cylinders |  6   |
| Tires |   |
| Base |  (8) 31-13.5x15   |
| Optional |  NA   |
| Quantity |  12   |
| Row Units |   |
| Type |  ---   |
| Opener |  ---   |
| Depth gauging |  (2) semi-pneumatic wheels - 4 1/2 x 16   |
| Adjustment |  T-handle 1/4 to 4 with 1/4 increments in.  |
| Walking wheels |  Optional   |
| Row unit seed hoppers |  ---   |
| Capacity |  Mini hoppers - 1/16 bu  |
| Material |  Plastic   |
| Row unit down force |  Base equipment   |
| Non-adjustable (4 springs) |  ---   |
| Adjustable heavy-duty |  ---   |
| Pneumatic |  Base, Infinitely adjustable to 400 lb  |
| Scrapers, opener blades |  Optional   |
| Plastic rotary |  NA   |
| Steel straight blade |  Base   |
| Heavy-duty |  Optional   |
| Seed tube sensors |  Base equipment   |
| Base |  ---   |
| Optional |  ---   |
| Seed Meters |   |
| Base |  Vacuum   |
| Optional |  NA   |
| Finger pickup |  NA   |
| Radial bean meter |  NA   |
| Central Commodity System |  Base   |
| Seed capacity |  100 bu  |
| Drive System |   |
| Base |  3-motor hydraulic variable rate drive   |
| Optional |  NA   |
| Number of drive wheels |  NA   |
| Drive wheel disconnect |  NA   |
| Counter shaft |  7/8 hex in.  |
| Drill shaft |  7/8 hex in.  |
| Seed transmission |  Frame-mounted   |
| Transmission combinations |  Electrohydraulic, on-demand adjustment   |
| Markers |   |
| Type |  Tri-fold   |
| Control |  Independent   |
| Base |  Independent   |
| Optional |  NA   |
| Marker disk |  Notched w/depth gauging band - 16 in.  |
| Base |  Notched - 16 in.  |
| Optional |  NA   |
| Shear bolt protection |  NA   |
| Less marker option |  Optional   |
| Closing System |   |
| Rubber tire closing system |  Base equipment   |
| Wheel |  (2) rubber tires w/nylon wheel - 1 x 12 in.  |
| Position |  In-line or staggered   |
| Adjustment |  T-handle   |
| Down force |  5-position   |
| Alignment |  Adjustable   |
| Cast iron closing system |  Optional   |
| Wheel |  (2) cast iron wheel - 1 x 12 in.  |
| Position |  In-line or staggered   |
| Adjustment |  T-handle   |
| Herbicide and Insecticide |   |
| Insecticide only hopper |  NA   |
| Herbicide only hopper |  NA   |
| Insecticide and herbicide hopper |  NA   |
| Liquid Insecticide System |   |
| System available |  ---   |
| Tank capacity |  420 gal.  |
| Seed Monitor System |   |
| Base |  ---   |
| Optional |  ---   |
| Tillage Attachments |   |
| Unit-mounted coulter |  Optional   |
| Frame-mounted coulter |  NA   |
| Bubble blade |  NA   |
| .63-in. fluted blade (25 flutes) |  ---   |
| .7-in. fluted blade (13 flutes) |  ---   |
| 1-in. fluted blade (8 flutes) |  ---   |
| Row tillage support hanger |  NA   |
| Tine tooth |  ---   |
| Cons. furrower w/ leading cutout blade |  NA   |
| V-wing bed sweeps |  NA   |
| Row cleaner |  ---   |
| Row cleaner - unit-mounted coulter |  NA   |
| Row cleaner - unit-mounted DD fert. opener |  NA   |
| Fertilizer |   |
| Onboard / towed / tractor tanks |  NA   |
| Tank capacity |  NA   |
| Fixed-rate application |  NA   |
| Variable-rate application |  NA   |
| Pump type |  NA   |
| Pump rate |  NA   |
| Fertilizer opener type |  NA   |
| Frame-mounted |  NA   |
| Unit-mounted |  NA   |
| Flow divider distribution system |  NA   |
| Pressure manifold distribution system |  NA   |
| Dry fertilizer |  NA   |
| Number of hoppers |  NA   |
| Hopper capacity |  NA   |
| Dimensions |   |
| Transport width (with markers) |  4.9 m  |
|   |  15 ft  |
| Transport width (without markers) |  ---   |
| Transport length |  16.8 m  |
|   |  55 ft  |
| Transport height |  3.7 m  |
|   |  12 ft  |
| Transport weight |  15,422 kg  |
|   |  34,000 lb  |
| Transport underframe clearance |  66 cm  |
|   |  26 in.  |
| Field operation width |  ---   |
| Field operation length |  ---   |
| Ag Management Solutions |   |
| Map-based seeding |  Optional   |
| Field documentation |  Optional   |
| Parallel tracking |  Optional   |
| Additional Information |   |
| Recommended tractor horsepower |  280 hp  |
| Recommended tractor hydraulics |  6 SCVs w/2250 psi operating   |
| Warranty length |  1 year   |
| Date collected |  ---   |