Search Inventory Search Products & Site
Agriculture DB80 32Row30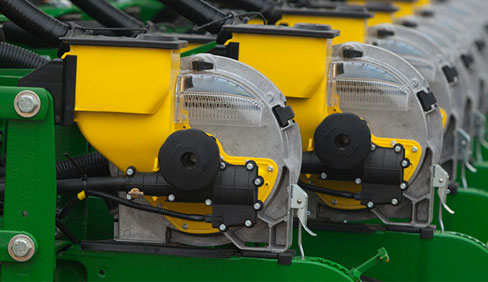 Double tap to zoom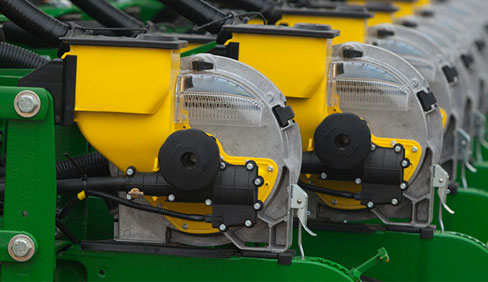 DB Planter Series DB80 32Row30
Overview:
If you're looking for a productive, all-purpose planter that can help you make the most of your narrow planting window, ask your dealer about the incredible DB80 Planter with 48 rows. Like all DB models, it will knock out your acreage in no time!
Get a Quote »
Get A Quote
Fields with asterisks* are required. Please email our helpful staff with any questions or comments using the contact form.
Send to a friend »
Send To A Friend
Fields with asterisks* are required. Your friend will receive an email that contains a reference to this page. Please send this email only to people you know who would be interested in this information.
Features
80-ft. toolbar with 32 rows on 30-in. spacing
Available in mini-hopper, 1.6-bu., or 3-bu. MaxEmerge™ 5 row unit
Insecticide option for mini-hopper and 1.6-bu.
Requires a minimum 300-hp tractor equipped with Category 4 drawbar
Specifications
| | |
| --- | --- |
| Model | DB80 |
| Rows and Row Spacing |   |
| Number of rows | 32 |
| Row spacing, in. (cm) | 30-in. |
| Frame |   |
| Fold configuration | Front fold |
| Frame tube size, in. (cm) | 7x7 (17.8x17.8 cm) |
| Fold-and-go from tractor cab | Base |
| Flexibility | 3-section flex-frame; wing 15 degrees up and down |
| Hitch |   |
| Base | Drawbar |
| Optional | --- |
| Rear hitch | Optional |
| Lift System |   |
| Type | Electrohydraulic series rephasing cylinder w/center section drop axle |
| Number of cylinders | 5 |
| Tires |   |
| Base | (4) 16.5x16.1, (4) 31-13.5x15 |
| Optional | NA |
| Quantity | 8 |
| Row Units |   |
| Type | MaxEmerge™ XP or Pro-Series™ XP |
| Opener | Tru-Vee™ double disk w/15-in. blade |
| Depth gauging | (2) 4-1/2x16-in. semi-pneum. wheels |
| Adjustment | T-handle 1/4 to 4-in. with 1/4-in. increments |
| Walking wheels | Optional |
| Row unit seed hoppers | --- |
| Capacity | 1.6 or 3.0 bu. |
| Material | 1.6 bu. polyethylene or 3.0 roto-molded plastic |
| Row unit down force | Base equipment |
| Non-adjustable (4 springs) | --- |
| Adjustable heavy-duty | --- |
| Pneumatic | Base, Infinitely adjustable to 400 lb. |
| Scrapers, opener blades | Optional |
| Plastic rotary | Optional |
| Steel straight blade | Optional |
| Heavy-duty | Optional |
| Seed tube sensors | Base equipment |
| Base | AccuCount™ |
| Optional | --- |
| Seed Meters |   |
| Base | Vacuum |
| Optional | --- |
| Finger pickup | Optional |
| Radial bean meter | Optional |
| Central Commodity System | Optional |
| Seed capacity, bu. (cu. m) | 100 bu. |
| Drive System |   |
| Base | 2-motor hydraulic variable rate drive |
| Optional | Tire contact drive (chain) |
| Number of drive wheels | Two |
| Drive wheel disconnect | Automatic |
| Counter shaft | 7/8-in. hex |
| Drill shaft | 7/8-in. hex |
| Seed transmission | Front-mounted |
| Transmission combinations | 50 sprocket combination |
| Markers |   |
| Type | Tri-fold |
| Control | Independent |
| Base | Independent |
| Optional | NA |
| Marker disk | 16-in. notched w/depth gauging band |
| Base | 16-in. notched |
| Optional | NA |
| Shear bolt protection | NA |
| Less marker option | Optional |
| Closing System |   |
| Rubber tire closing system | Base |
| Wheel | (2) 1x12-in. rubber tires w/nylon wheel |
| Position | In-line or staggered |
| Adjustment | T-handle |
| Down force | 5-position |
| Alignment | Adjustable |
| Cast iron closing system | Optional |
| Wheel | (2) 1x12-in. cast iron wheel |
| Position | In-line or staggered |
| Adjustment | T-handle |
| Herbicide and Insecticide |   |
| Insecticide only hopper | Optional - 70 lb. *MaxEmerge™XP only |
| Herbicide only hopper | Optional - 70 lb. *MaxEmerge™ XP only |
| Insecticide and herbicide hopper | Optional - 35 lb. * MaxEmerge™ XP only |
| Liquid Insecticide System |   |
| System available | Central Insecticide System (CIS™) |
| Tank capacity | 420 gallons |
| Seed Monitor System |   |
| Base | SeedStar™2 |
| Optional | SeedStar™ XP |
| Tillage Attachments |   |
| Unit-mounted coulter | Optional |
| Frame-mounted coulter | NA |
| Bubble blade | NA |
| 1-in. fluted blade (8 flutes) | NA |
| Row tillage support hanger | NA |
| Tine tooth | NA |
| Cons. furrower w/ leading cutout blade | NA |
| V-wing bed sweeps | NA |
| Row cleaner | Optional w/SharkTooth™ wheels |
| Row cleaner - unit-mounted coulter | NA |
| Row cleaner - unit-mounted DD fert. opener | NA |
| 63-in. fluted blade (25 flutes) |   |
| 7-in. fluted blade (13 flutes) |   |
| Fertilizer |   |
| Onboard / towed / tractor tanks | NA |
| Tank capacity | NA |
| Fixed-rate application | NA |
| Variable-rate application | NA |
| Pump type | NA |
| Pump rate (GPA) | NA |
| Fertilizer opener type | NA |
| Frame-mounted | NA |
| Unit-mounted | NA |
| Flow divider distribution system | NA |
| Pressure manifold distribution system | NA |
| Dry fertilizer | NA |
| Number of hoppers | NA |
| Hopper capacity | NA |
| Dimensions |   |
| Transport width (with markers), ft. (m) | 16-ft. (4.9 m) |
| Transport width (without markers), ft. (m) | --- |
| Transport length, ft. (m) | 50-ft. (15.2 m) |
| Transport height, ft. (m) | 12-ft. (3.7 m) |
| Transport weight, lb. (kg) | 32,000 lb. (14,515 kg) |
| Transport underframe clearance | 26-in. (66 cm) |
| Field operation width, ft. (m) | --- |
| Field operation length, ft. (m) | --- |
| Ag Management Solutions |   |
| Map-based seeding | Optional |
| Field documentation | Optional |
| Parallel tracking | Optional |
| Additional Information |   |
| Recommended tractor horsepower | 235 hp |
| Recommended tractor hydraulics | 4 SCVs w/2250 psi operating |