Search Inventory Search Products & Site
Frontier GX11 Series Grinder Mixer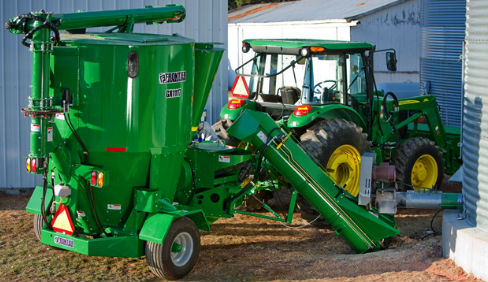 Double tap to zoom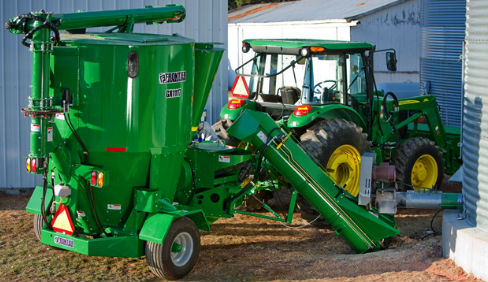 GX11 Series Grinder Mixer GX11 Series Grinder Mixer
Overview:
The Ration-al Choice

Save time and money in your livestock operations with the Frontier GX1117 Grinder-Mixer. With this efficient mixing tool, you can combine grain and mineral supplements to create ideal feed rations. The GX1117 is packed with so many great features, you'll see just how easy feed making can be.

Get a Quote »
Get A Quote
Fields with asterisks* are required. Please email our helpful staff with any questions or comments using the contact form.
Send to a friend »
Send To A Friend
Fields with asterisks* are required. Your friend will receive an email that contains a reference to this page. Please send this email only to people you know who would be interested in this information.
Features
The 3.7-m (12-ft) hydraulically controlled unloading auger is standard equipment. It has a reach height of 19 ft at 53 degrees, can rotate 300 degrees, and is controlled from the tractor's operator station.
An adjustable slip clutch for the unloading auger rotation provides protection against impact with a building or bin.
A manually operated, slide-style door opens easily for unloading.
The 53-cm (21-in.) hammer mill has 66 thin, four-way reversible steel-alloy hammers that slice the material.
As slicing occurs, a suction fan draws ground feed through the 600-cu in. screen area and allows a uniform mix. This mill and hammer design also reduces horsepower requirements.
The supplement hopper is located on the left side of the grinder mixer. It is 58.4 cm wide and 45.7 cm long (23 in. wide and 18 in. long) and equipped with a sack cutter. The mouth opening is 88.9 cm (35 in.) above the ground.
Big capacity means fewer loads to be ground, mixed, and delivered to feeders and bins.
The 0.91-m (3-ft) folding discharge auger extension kit consists of a (0.91-m) 3-ft length of auger, which is attached on a pivoting mounting bracket to the end of the 3.7-m (12-ft) unloading auger.
The 1.8-m (6-ft) folding discharge auger extension kit consists of a 1.8-m (6-ft) length of auger, which is attached on a pivoting mounting bracket to the end of the 3.7-m (12-ft0 unloading auger.
The discharge auger cradle extension kit holds the 0.91-m (3-ft) and 1.8-m (6-ft) auger extension in position for transportation.
NOTE: The folding auger extensions must be folded back and locked in position for transport.
The swinging intake auger has a diameter of 30.4-cm (12 in.) and a length of 2.1-m (7 ft.) In the operating position, the intake auger rests on the ground. The height from the ground to the top of the mouth intake flares is 50.8 cm (20 in.) The swinging intake auger is hydraulically driven with a variable-speed control and feeds a variety of grains into the hammer mill.
Two Digi-Star® electronic scales are available for the GX1117 Series Grinder Mixer.
The Digi-Star EZ2000 electronic scale measures the total weight of material in the mixing chamber.
The Digi-Star EZ3200 electronic scale with an external horn measures the total weight plus the weight of each ingredient added to the mix.
Digi-Star is a trademark of Digi-Star, LLC.
Twelve hammer mill screens are available as attachments for the grinder mixer. Sizes range from 3.175 mm to 50.8 mm (0.125 in. to 2 in.).
Screens are stored on the left side of the machine.
Unloading auger extensions are available in 0.9-m and 1.8-m (3-ft and 6-ft) lengths and are folded manually.
Mill screens field conversion kits are used for grinding a variety of sizes and types of grains and shelled and ear corn.
All attachments, their respective sizes, and uses are listed below, and all are for use on the GX1117 Grinder Mixer.
A gravity feed hopper with two heavy-duty 102-mm x 457-mm (4-in. x 18-in.) magnets catches metal debris.
The 35.6-cm (14-in.) vertical mixing auger with a 76.2-cm (30-in.) base is designed to thoroughly mix the ground feed and supplements.
Mixing is accurate and consistent load after load.
The GX1117 is available with a 540-rpm power take-off (PTO) or 1000-rpm PTO. The hammer mill is powered with an eight A-section-banded V-belt for a positive drive.
The drive also features a quick-release pin to disengage the hammer mill.
The self-contained hydraulic system drives all of the feeding attachments and unloading mechanisms. The hydraulic system is supplied by a hydraulic motor with 39.75-L/min (10.5-gpm) flow. A cyclonic reservoir provides circulation to cool the hydraulic oil.
Banded V-belt
14-in. vertical mixing auger
Self-contained hydraulic system
Optional 7-ft intake auger
Specifications
Manufacturer
John Deere
Model
GX1117
Dimensions
 
Overall machine height
 10.6 ft (3.2 m )
Overall machine width without intake auger
 7.75 ft (2.4 m )
Overall machine width with intake auger
8.7 ft ( 2.7 m )
Overall machine length
15.7 ft ( 4.8 m )
Ground clearance
11.5 in. ( 29.2 cm )
Weight
 
Weight without intake auger
3200 lb (145.1 kg) 
Weight with intake auger
 3600 lb (1632.9 kg )
Tractor requirements
 
PTO hp 540 rpm PTO
 

50-115 hp  (

37.3-85.8 kW)
PTO hp 1000 rpm PTO
 

50-145 hp  (

37.3-108.1 kW)
PTO rpm
 540 or 1000 rpm 
Hitch
 
Drawbar
 Category 1  
Tires
 
Quantity
 Two  
Size
 12.5L-15, 20 ply  
Mixing chamber
 
Capacity

170 cu ft  (135 bu) 

 (4.8 m3 )
Diameter
72 in. (182.9 cm) 
Mixing auger
 
Diameter
 14 in. (35.6 cm )
Base diameter
30 in. ( 76.2 cm )
Ladder
 
Style
 Standard, front mount over mill  
Windows
 
Style
 Standard, 2-full length, 1-port hole  
Hammer mill
 
Feed
 Gravity hopper or swinging intake auger  
Width
21 in. ( 53.3 cm )
Cylinder diameter
 20 in. (50.8 cm )
Hammer quantity
 66  
Hammer type
 4-way reversible steel alloy  
Screen area
600 sq in. ( 3871 cm2 )
Screen hole size

0.125-2.0 in.  (

 0.3-5.1 cm ) 
Rotational speed
 2700 rpm 
Drive
 Eight A section banded v-belt  
Magnet quantity
 Two  
Magnet size

4x18 in.  (

 10.2x45.7 cm )
Unloading auger
 
Tube diameter
 8 in. (20.3 cm )
Length
 12 ft (3.7 m )
Standard reach height at 53 degrees
19 ft ( 5.8 m )
3-ft extension reach height at 53 degrees
 21.5 ft (6.6 m )
6-ft extension reach height at 53 degrees
23.8 ft ( 7.3 m )
Rotation degrees
 300 degree (angle) 
Intake auger
 
Direct drive
 Independent hydraulic motor  
Length
 84 in. (213.4 cm )
Diameter
12 in. ( 30.5 cm )
Hopper size
 42 in. (106.7 cm) 
Hopper minimum height
 20 in. (50.8 cm )
Hydraulic system
 
Type
 Self-contained, includes pulley driven pump, reservoir and pressure relief valve  
Pump pressure
 

3200 psi  (

22,063 kPa) 
Oil flow
 

10.5 gpm  (

39.7 L/min )
Hydraulic reservoir
 Cyclonic  
Oil filter

10 microns   (

10 micrometer)  
Supplement hopper
 
Dimensions
 

18x23 in.  (

45.7x58.4 cm )
Height
35 in. (88.9 cm )
Lighting, marking and safety
 
Transport safety lights
 Standard  
Markings
 SMV  
Safety tow chain
 Standard  
Jack
 Standard  
Set-up time
 
Labor hours
 1  
Warranty
 
Machine
 1 year